So Alex and I rocked up to the regent at 9am in our semi costumes (take note of the super high red shoes):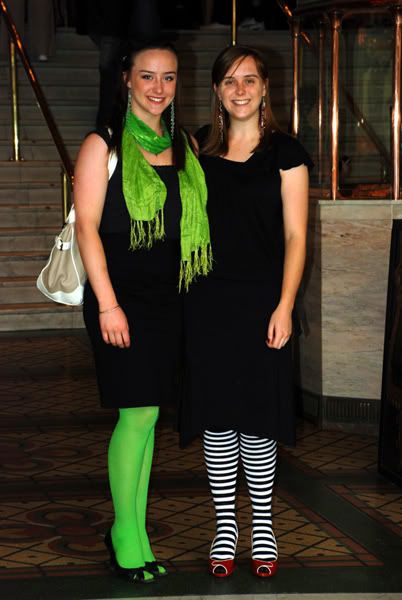 We mingled with people - some who I'd "met" on a facebook group for wicked obsessed people...like Rachael (the one in green)
Then we were let in, and got some ANZ showbags (which had "awesome" things in them like Anz shoelaces....), and then we got to see some of the costumes up close:
Glinda's dress in foreground, also can see baby Elphie, her hat and two of the emerald city costumes
One of the stunning Emerald city dresses:
After lots of chatting with people and getting pushed around the foyer of the Regent it was announced that two of the characters would be coming out to meet and get photos with :P So of course Alex and I got photos with them....here is me with the main flying monkey man :D
So then after they'd left we were asked to go and stand down in the lower part of the foyer so the costume contest could take place (Alex entered, but wasn't expecting to win - you'll understand when you see the photo). Some of the girls had INSANE costumes, which after facebook stalking I found that they'd made them for muck up day) - and if you look at the Wicked Witch's costume and then just thinking it was a mid 30 degree day....and that material wasn't thin...The competition was judged by the two leading ladies who gave out four prizes.
After that we had most of the cast come out and sang some of the song "One Short Day" to us (and were conducted by the late Rob Guest's partner Kellie Dickerson)...
then they had a minor change of plan, and they decided that all the ensemble was going to come and mingle with us while they "taught" us One Short Day....however it became clear that practicaly everyone knew the lyrics already and so they also taught us another verse. The Wicked Witch also decided to improv some actions:
One (index finger up)
Short (hands in front of you kinda like you're going to clap)
Day:
...."everywhere you LOOK in the city"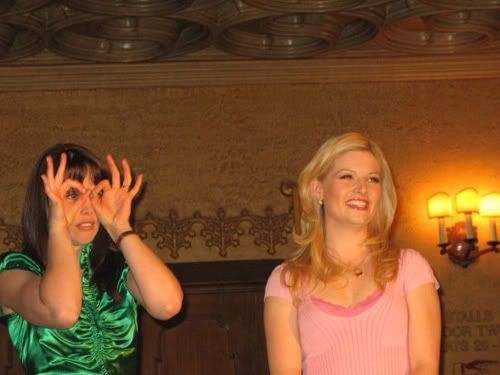 ...."there's something EXQUISITE"
The leading ladies also on the spur of the moment during the song to act out their costume change - I wish I could link you to the video someone took because it is so funny :P
Then we got to chat to and take photos with all the ensemble (and a few of the minor!major and minor roles) - Jemma Stevenson, the standby Elphaba, has to be one of my favourite cast members...she's just lovely and chatted to us for a while about how her parents made sure she had a fallback plan for musicals (she finished beauty school :D) and how she'd been Elphaba in Japan for a while.
One of the cast also had a funny way of signing the programs (she mutilated her own photo by drawing stuff like beards and glasses on them :P)
Also got a photo with the two witches:
Amanda Harrison (Elphaba - aka Wicked Witch of the West)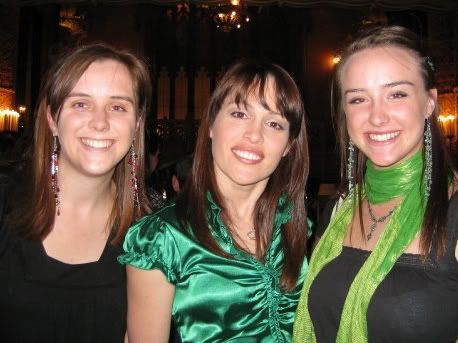 Lucy Durack (Glinda - Good Witch of South)
Then we had a small talk by John Frost - which was enlightening about what it took to bring Wicked to Melbourne.
After that we allowed to see a tech run (I haven't posted photos for those that doesn't want to be spoiled) where we got to see how the flying monkeys fly, how flying props come on and off, and all the lights in all their glory. The two things they weren't allowed to tell us how they worked - when Elphie's broom flies on and how she "defies gravity". The first one is really obvious - it's on a string, the second one I think i've just about got figured out.
After that we were free for 1.5 hours to go and have lunch before we came back for the performance. There are lots of things that were really good and funny about the performance, most of which won't make sense to most of you so I won't go into it. But there were a couple of points where they'd improved a few changes which made them giggle a bit (funny for us too). Because all us Wicked people were up the front on either side we were all able to do the actions to One Short Day that we learnt earlier that morning...I also did the actions (I was the only one) during the curtain call when the same song comes on....the guy that plays the monkey saw me and grinned :P. Also all the way through it I was giggling because I'd read a pictorial review that Lili's Alicia did a while back - some of the time I was silently giggling where it was supposed to be a sad, tender moment. Also funny at curtain call cause all us Wicked Day people stood up immediately, whilst pretty much all of the centre section remained seated (at least until the two witches came out).
We also mobbed a few people at stage door while they headed out to get their dinners before the evening show.
All-in-all a very, very enjoyable day (which was followed by seeing 4 week old labrador puppies - SO CUTE!)
Well as a form of procrastination I thought I'd give a run-down of Wicked Day on Sunday: